Home
Article Details
Article
WHEN IS RAKHI IN 2014
Posted on: Jul 10, 2014
The bonding of the siblings is regarded the strongest companionship. The brother sister relation involves affection, concern and attachment. Their devoted lifelong support is a priceless possession. We rely on them during crisis and grief.
In the year 2014, the auspicious occasion of Rakhi will be celebrated on 10th August. It falls on Sunday.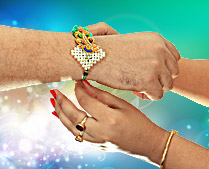 One of the most esteemed festivals of India, Raksha Bandhan is widely observed by Hindu, Jain and the Sikh community. This traditional ceremony has its origin since the vedic ages. It was regarded as the quintessential custom to build and strengthen the social bonds. The royal families of the medieval ages exchanged these sacred threads with each other as a symbol to continue the harmonious relations. With the due course of time, Raksha Bandhan has evolved as the festival of the people transcending all the physical boundaries. From the usual brother-sister fanfare, it has now emerged as the celebration of togetherness. From the warmth shared by the siblings, Rakhi now propagates the feeling of unity and commitment for peaceful coexistence.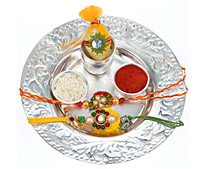 The preparations for the celebration start much prior of the reverent occasion. Women start buying colourful and fancy rakhis that will elate their brothers. All the shops and stores are decorated with captivating rakhis, sweets, gifts and other ceremonial materials. On the propitious day, people adorn new traditional and ethnic attires. The female members of the family arrange the sacred rakhi thali, as the sister binds the rakhi and performs aarti of her brother. In return, the brother pampers his sister with love, blessings and delightful gifts. This graceful custom is followed among cousins, relatives and neighbours too. With the religious fervour, Raksha Bandhan also unites our extended family. It builds a stronger bond within the family members. On this day, several mouth watering dishes are prepared and enjoyed together over a family lunch.
Raksha Bandhan is the occasion which inspires us to develop moral, cultural and spiritual values. Within the customary emotions between siblings, it develops an inseparable bond based on trust and mutual belief. Celebrate this pious occasion with a lot of ebullience and vivacity to make it a cherishable affair in the years to come.
Post your comments here
Support Desk
| | | | | |
| --- | --- | --- | --- | --- |
| My Order Details | | Shipping & Returns | | Others |